Our Alumni
We are very proud of both our current and past students. If you attended Pool Academy, no matter how long ago, we would love to hear from you. Tell us what you have been up to and how your qualifications and school experience has really helped you with your career to date.
Please contact us – we look forward to hearing from you!
Alumni News
Lucy Talbot
Lucy achieved a First Class Honours Masters Degree in Chemical Engineering at Manchester. Along the way, she obtained a student Bursary from BP; 2 further Uni Awards and a graduate recognition award from the Salters Company. Following on, Lucy had worked for ExxonMobil and was responsible for the supply of fuel to British Airways, Tesco and Esso garages.
She now works for Unilever in R&D designing laundry capsules and leading insights to help make significant steps in plastic reduction. At Pool Academy Lucy studied triple science and maths and says these subjects were fundamental in helping her understand what she wanted to do. Typically engineering was only offered via traditional degree based routes, however there are several degree apprenticeships to open chemical engineering to more people.
Lucy said she loves being a Process Engineer as she uses data, science and application to large scale to make real significant changes to ensure that future generations can enjoy the planet as much as we have.
Charlotte Talbot
After achieving an intercalated medical degree in Women's Health from King's College London, Charlotte graduated as a Doctor from St George's University of London. She achieved a distinction overall for her degree, and along the way achieved several academic awards.
In August 2022 Charlotte will start on her Academic Foundation 2 year Programme in central Birmingham. The program, alongside normal rotations, allows her to work alongside academics who are active in medical research.
Michael Wong
When Michael left Pool Academy, he went on to study A-Levels at Camborne Science and International Academy after which he read Civil Engineering at Coventry University earning a BEng (Hons), First Class.
Michael entered the construction industry in Cornwall becoming a Chartered Construction Manager in a record 3 months. He built award winning projects all around Cornwall with Classic Builders. He is now the lead Project Manager for Network Rail's contribution to Innovation Programme 2: Control, Command and Communication managing research and development projects with a combined value exceeding €183,000,000.
As a Joint Undertaking partially funded by the European Commission, Michael has spent a lot of time working in Europe with programme partners.
Rob Cook
Rob was a student at Pool School from 1984 – 1989 and says he really enjoyed his years at the school. Although he admits he did struggle with some subjects, his real passion and focus was on the creative subjects including Art and Music. Rob said he had a fantastic relationship with the Art Department and they were great in supporting and directing him on his chosen career path. In Rob's fifth year, during art lessons, he visited the Falmouth School of Art Tower Block on the Cornwall College Campus and formed a connection with the Graphic Design Department. The Falmouth lecturers guided Rob on what he needed to work on to apply for the Graphic Design Course. Mr Jones, Mr Lyons and Mr Gronow who were Art and Design Teachers at Pool then helped him with tailoring his portfolio.
Rob was accepted onto the Graphics Course in 1989 where he studied for four years on OND and HND levels. During his final year on the HND course he was lucky enough to be offered a work placement in a top design agency in London. Rob said it was a true cultural shock but such an exciting adventure.
After several years working for various design agencies Rob has been working for Rolls-Royce aero engines for the last 25 years. He is the Senior Designer with tasks including creating graphic displays for global exhibition graphics, creating marketing and advertising campaigns for Rolls-Royce activities in India, Australia, North America, Middle East, Singapore, Japan and South Korea, creating social media and digital campaigns and high level presentations which are used to present materials to MPs and senior government officials. Rob's highlights include designing posters for the RAF Red Arrows Aerobatic Display Team and designing exhibition panels which the late Queen and Princess Anne have stood in front of.
Rob said he will never forget the support he received from Pool School and will always say that it's best to work on what you're good at and excel at it!!
Delane Hammill
Delane graduated from the University of Exeter in 2019 with a degree in Sociology and Anthropology and was a member and leader of lots of student groups. Since then and during the pandemic, she has worked at the University on a range of things from helping her former tutors to deliver their teaching online to supporting student volunteering projects! Delane's highlight in this time has been running a residential over the summer for young carers in the community and being awarded Associate Fellowship for the Higher Education Academy. She also recently raised around £300 for Mind charity!
Delane now lives in Devon, enjoys the gym, netball, volunteering and loves contributing towards the student experience in Higher Education. She has also worked with Next Steps South West to talk about what attending University is like from somewhere like Cornwall and how she found her feet.
Emma Gamble
Since leaving school Emma has done many things, from working in a holiday camp for children in Ireland and then Pontins in Brean Sands.

Emma then had a working holiday visa in Australia, where she worked on a fishing trawler as a deckhand in Western Australia for 2 years and completely fell in love with the country. Emma decided to stay in Australia, applied for permanent residency and got it. In 2016 Emma became a Fire Fighter and in that same year joined the Emergency Response Team.
Chris Pooley
Chris is currently the Principal of Nord Anglia International School Manila (Philippines). Nord Anglia Education is the largest International Schools group with over 76 schools around the world.
Prior to his appointment as Principal at Nord Anglia International School Manila, Chris served as the Head of Primary from 2014 and has overseen the development of the Primary School.
He has played a lead role in enabling NAIS Manila to be recognised as an award-winning International School and as one of the leading International Schools in the Philippines. Chris is a graduate of the Nord Anglia Education Senior Leaders and Aspiring Principals Programmes.
Throughout Chris' career he says he has been been fortunate to lead organisations and schools in which the values align closely with my own and has been inspired by positive role models throughout his own schooling.
Paul Massey
When he left Pool School, Paul went to Truro College to do A Levels in Maths, Further Maths and Physics. He then went on to study Physics at Oxford University, although didn't complete his degree. Whilst at Pool School he did work experience at a local electronics design company, which became a job (on Saturdays and in holidays) through school, college and university, so by the time he was 22 years old, he had 7 years' industrial experience.
Paul founded an award winning software company, Bluefruit, in Pool which now employs 80 people and puts this down to enjoying Maths and Science at Pool School and taking his work experience seriously!
Catherine Sellings
After completing her GCSEs, Catherine went to Redruth Sixth Form for A levels.
Catherine says she was lucky enough to be really well supported by her family and their local GP and applied to Medical School next. She took up a place at King's College School of Medicine and Dentistry in London where she lived for six years before qualifying.
Once Catherine had completed her initial junior Doctor jobs she became a Speciality Doctor in Emergency Medicine which she did for 21 years. Catherine said she absolutely loved teaching so took up a Senior Lecturer post at Exeter Medical School teaching clinical skills alongside her clinical job. This also gave her the opportunity to gain additional teaching qualifications.
More recently Catherine decided to have a bit of a career change and has just started a new post as a palliative care Doctor which she says is a bit different from Emergency Medicine but it's never too late to try something new!
James Tucker
James went on to study Biomedical Science at Southampton University, achieving 1st class honours. He then trained to become a primary school teacher and is now a Deputy Head at a school in Dorset and also works across a Trust of 22 schools as the Professional Learning and Improvement Lead.
Zak Baker
Zak is one of just seven people selected for an apprenticeship at Home Park after taking part in League One club's Academy. He is a goalkeeper and attended the Cornwall Centre of Excellence in St Stephen previously. He has also played in Northern Ireland in 2018 and 2019 and represented the West Cornwall Schools in the Under 13s, 14s and 15s.
Zak said he is enjoying the challenge of living away from home and that the five years of travelling and dedication has been worth it. He said the opportunity to train and play for a professional football club is an opportunity he feels is a privilege so many boys aspire to.
Mark Fuller, from Pool Academy, said: "Having worked as Zak's football coach at Plymouth Argyle's Cornwall Centre of Excellence, it's great to see how he has progressed through the academy. Zak's hard work and dedication, over the years, is finally paying off and I wish him the best of luck for the future."
Jack Richardson
When Jack left Pool Academy he went onto college and then University of Exeter to study Politics.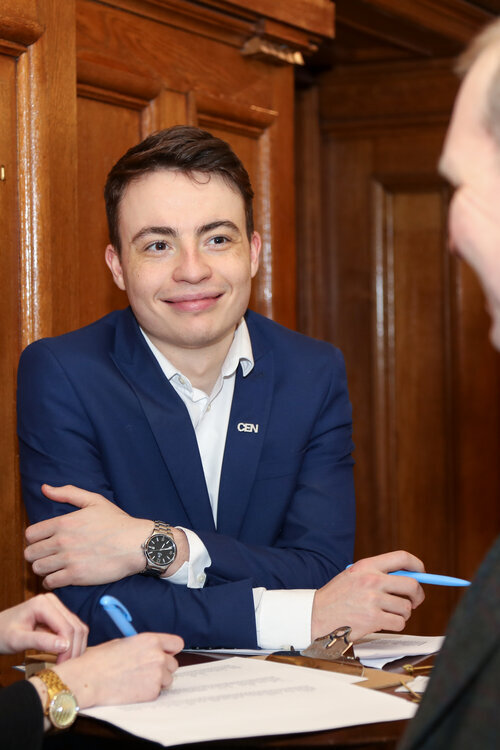 He is now working as the Climate Programmes Manager with the Conservative Environment Network where he leads on climate and energy policy. He is also starting a Masters in International Political Economy at Kings College London to study climate diplomacy, trade and energy.
He said: "When I was at Pool Academy my favourite subjects were history and geography. I was rubbish at science and maths but that is how I learned it's ok to struggle at something as long as you keep bashing away at it."
Before heading off to university Jack carried out some work experience with George Eustice to learn how an MP's office works and how politics worked. After completing his degree, he then carried out more work experience with the MP in the Houses of Commons where he met Scott Mann, MP for North Cornwall, who hired him. Jack later moved on to work at Foreign Office Minister Sir Alan Duncan's office.
Jack said: "I developed an interest in foreign policy at University and spent, overall, about 18 months in parliament. Then after the 2019 election, and a bit more work experience at a foreign policy think tank, I managed to get a job at CEN where I work now. We work with over 100 MPs and peers, helping them with environmental campaigns and policy. I put together briefings for them, write articles for newspapers, organise events, and do general bits and bobs. Our goal is to support the Government to be as environmentally ambitious as possible."
His advice to current students hoping to follow on a similar career path is to get work experience whenever you can.